Hotel Den Haag - Wassenaar is open
Hotel Den Haag - Wassenaar is opened for overnight stays. Unfortunately the restaurant is closed and it is not possible to order roomservice. We do offer take away services.
We would like to ask you to take these measures into account to ensure your health and that of our employees. We hope to welcome you soon for a safe and comfortable stay at Hotel Den Haag - Wassenaar.

Thank you for understanding and trust in our hotel.

View our taken measures
---
General
From the 1st of December, you are required to wear a mouth mask at the hotel;

The hotel and the entrance of the hotel are provided with signage and instructions;

The hotel is divided into so-called 'disinfection zones'; at various places in the hotel are standing tables with COVID-19 zone instructions, disinfection measures and disinfectant hand gel. Signage has also been placed here in order to pass each other at a safe distance;

In locations where queues can arise (reception, coffee square, toilets) the required distance is marked with warning stickers and ribbons, so that a minimum distance of 1.5 meters is created between the waiting guests;

Employees have been instructed and continue to receive instructions on all hygiene measures;

Employees wear an orange button to alert guests to the 1.5-meter rule;

The COVID-19 measures are repeated on the various television screens in the hotel;

The reception desk is fitted with plexiglass;

We advise our guests to pay by card;

Extra measures have been taken regarding the cleaning of our general areas, such as the lifts, luggage carts, reception, vending machines, general doors (and handles) and toilets;
---
Open facilities
The facilities in our hotels are limited available to prevent too many people being in the same places at the same time.
Restaurant & hotelbar
Unfortunately the restaurant and hotelbar are closed. Also roomservice is not allowed. We do offer a take away service:
For breakfast we offer two options. You can make your choice when checking in. At a specific time in the morning you can pick-up your breaksfast at the pick-up point.
For lunch we offer several take-away dishes at the Foodtruck that is situated next to our entrance.
For dinner we have a Take Away menu, which you will receive at the check-in. At a specific time you can pick-up your dishes at the pick-up point. Also the Foodtruck is an option for dinner.
---
Meetings
We offer larger meetingrooms to enable a 5 ft. setup;
We offer the possibility of hybrid events if there are many participants who prefer to log in from home and / or if you need two locations due to the size of the event;
The coffee square is decorated with sufficient distance between the standing tables and again warning stickers and ribbons 5 ft. away at the coffee machines;
The lunch and breaks will be offered in buffet style and will be placed in the break-out spaces;
All products are seperately packed;
The lunch and breaks will be consumed in the break-out room next to the meeting room ;
The coffee machines have disinfections to clean the machine before and / or after use. Of course, these are also cleaned extra.
---
Safe and comfortable
At Van der Valk, the health, safety and well-being of our guests and employees has the highest priority. In order to guarantee your health and safety, we would like to ask you to observe the following policy during your visit to our hotel:
Follow indicated walking direction and hygiene measures
Keep 1.5 meters distance from other guests and employees
Do not shake hands with fellow guests or hotel staff
Wash your hands regularly and in accordance with RIVM guidelines
Use paper towels to dry your hands
Cough and sneeze in your elbow and turn away from fellow guests and hotel staff
Preferably pay with pin or contactless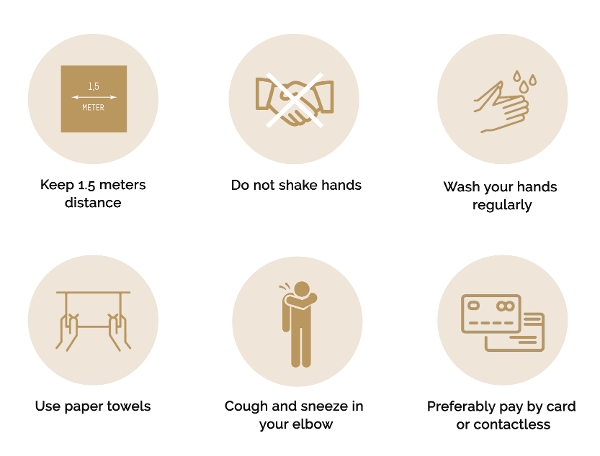 Do you have symptons of a cold, such as a runny nose, sneezing, sore throat, mild cough or increase to 38 degrees Celsius? Then we ask you to stay at home and not to come to the hotel.
We do everything we can to make your stay as safe and comfortable as possible. Thank you for your confidence in Van der Valk and we hope to welcome you in our hotel soon. If you have any questions, please do not hesitate to contact our reception.
With hospitable regards,
The Van der Valk family
---
Frequently asked questions

Can Van der Valk be open as a hotel and restaurant?
According to government guidelines it is allowed to be open as a hotel. Unfortunatley the restaurant is closed.
Is visiting a Van der Valk hotel safe?
Van der Valk takes your health and that of the employees very seriously. We have tightened measures within the hotel so that this can be guaranteed. All Van der Valk hotels are furnished according to the guidelines of the RIVM. As a hotel, we do everything we can to keep risks to a minimum.
As a hotel guest, can I use the restaurant facilities?
At this moment, it is not possible to make use of our restaurant.
Is it possible to order room service?
Unfortunately you can not order any roomservice.
What facilities are open in the hotel?
There are no facilities at this moment that can be used.
Is it possible to use facilities such as renting an (electric) bicycle at the hotel?
Yes, it is possible to hire normal bikes and electric bikes at the reception.
Can I change my booking on the day of arrival if I have a cold or cough?
This depends on the booking. Check your confirmation to see the cancellation policy of your specific booking.