Comfort rooms
Disabled room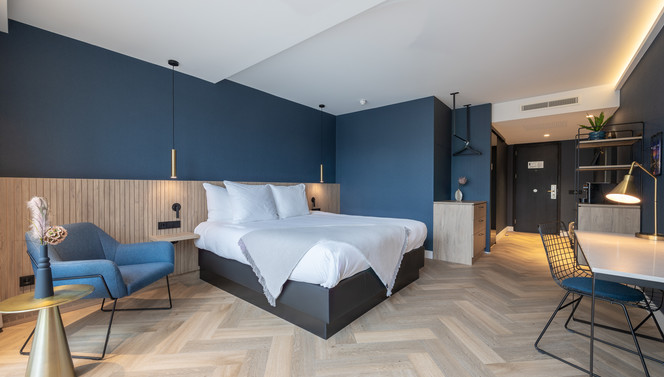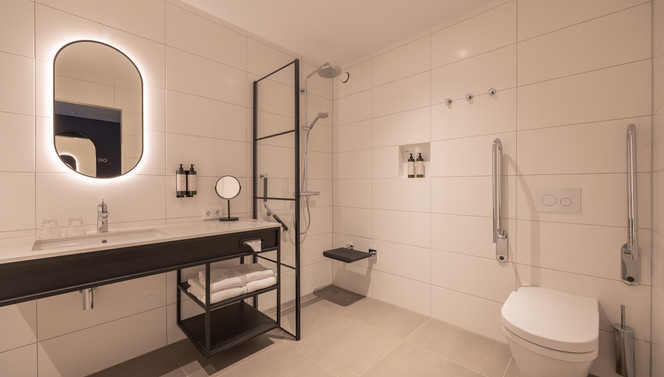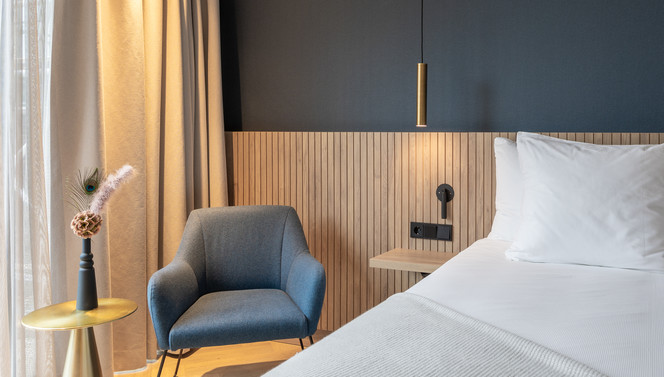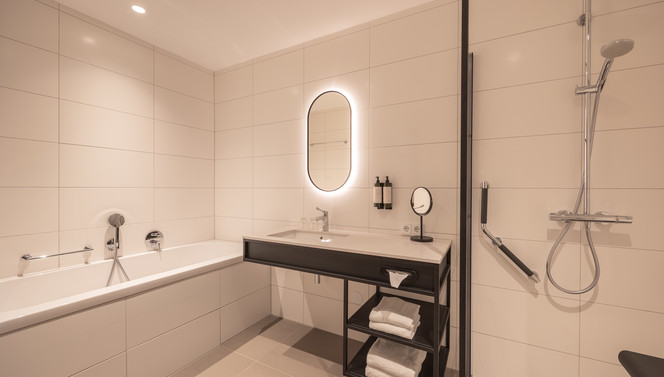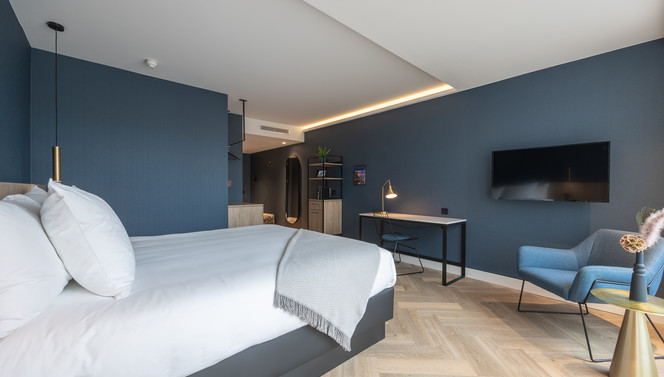 27 m²
Bathtub and shower
NB! We are currently under renovation. We do our utmost to limit the inconvenience to our guests.
View all photos
If you want to enjoy your holiday to the fullest and you are disabled, we offer a disabled double room. This new room is tastefully decorated and has a spacious bathroom with a bath and a rain shower with handles and a folding chair. There are also wide passages and you can use the wheelchair under the sink. Of course there are also coffee and tea facilities and a mini fridge that can be filled. Furthermore, this room has a lovely terrace where you can completely relax.
Unfortunately there is no longer an elevator in the hotel.
Limited capacity in our pavilion
In the period from August 1 to October 1, we have limited capacity in our pavilion. We work with time blocks for breakfast and you will therefore be asked to reserve a time for this at check-in. Would you like to dine with us? Then make a reservation in time, so that you are sure that there is availability. For this you can call 070-5119344 or send an email to wassenaar@valk.com.
No smoking I Pets allowed
All rooms are non-smoking. Pets are allowed in this hotel room on request. This is for a surcharge of €10.00 per pet, per night. A maximum of two pets are allowed per room.
Upgrade options
We offer all kinds of extras to make your stay even more pleasant. Do you have something to celebrate or would you like something delicious in your room? View our page with upgrade options
Hotels for Trees
Do you want to contribute to a greener world? You can! Hotel Den Haag – Wassenaar has started a collaboration with the Hotels for Trees Foundation. With this we support the initiative to plant a tree for every day that you, as a hotel guest, choose to skip the interim room cleaning for a multi-day stay.
If you want to use this, you can indicate this at check-in or during your stay via the tablet in your hotel room.